Long-Term Care for Business
If you own or run a small or large business the issue of Long-Term Care will impact you and employees and their families. Employers can offer affordable Long-Term Care Insurance as either a voluntary benefit with no cost to the company or the company can pay some or all the premium.
There are a number of important benefits for a business owner. These include:
Tax advantages. Premiums are deductible as a business expense.
Key person benefit. You can select classes of employees in an executive carve-out to provide a paid benefit without legal obligation to offer to other employees.
Simplified health underwriting. Depending on the number of employees to be covered the health qualifications are much more relaxed than outside a group.
Gender neutral premiums. Men and women are charged the same premium.
Spouses can be covered. If a spouse or partner is working they could also qualify for simplified underwriting.
Extended family members can be eligible. While they would be required to go through full underwriting they can enjoy other benefits from the group plan.
As more people experience long-term care issues with aging parents offering a long-term care plan can attract and retain the best employees and provide peace-of-mind to their future retirement planning.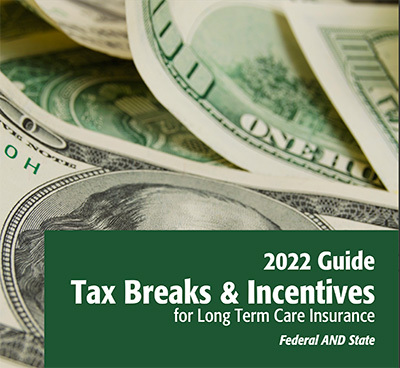 Get a Free Consumer Guide & Tax Guide